No.35 A Qu, Gaoshenqiao North Street | Wuhou District, Chengdu 620041, China
Blue Sheep Crafts and Gifts is a social enterprise that creates opportunities for some of the most economically disadvantaged people to begin to become more self-sufficient.Currently our main focus is on those affected by disability, disease, disaster, or poverty, have been trafficked, are in single parent families or living in remote, hard-to-access places. We assist them to gain skills, using the resources most easily available to them, to make marketable products that we can bring to a wider audience. Sometimes this includes introducing them to the changing trends of different countries. Many of them then blend these into stunning unique items, using their own traditional designs and techniques.
Blue Sheep started as a registered business in Chengdu in Western China to provide a market hub for these artisans. Chengdu is developing rapidly into a major commercial centre in East Asia and on to the world. It is also the gateway into many of the more remote parts of west and southwest China where many of the 55 minority 'tribal' people live; and borders several countries where related ethnic groups live. As such there is a rich field of cultural and traditional arts and crafts to explore and draw from.
We work under Fair Trade principles. Our interest is particularly in supporting individuals and small companies that abide by similar principles and take an interest in preserving the environment and their own cultural heritage. At present we buy directly from over 35 small cooperatives or individuals with more than 600 producers behind them. All profits are used to benefit those in need.
While it is true that "the poor we shall always have with us," together we can work towards the goal of giving people dignity, respect, independence, a sustainable income and hope for a better future.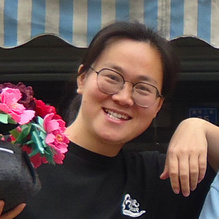 Honouring the Loyal Friends of Blue Sheep!
We're aware that we owe a huge debt of gratitude to our friends, volunteers and loyal customers. Click
here
to visit the gallery of Blue Sheep's friends!
Ever Wondered Why We're Called Blue Sheep?
The Himalayan Blue Sheep (Pseudois nayaur nayaur), bharal, Rock Sheep喜马拉雅岩石羊in Chinese, is found in the high Himalayas of Nepal, Tibet, China, India, Pakistan, and Bhutan. This 'goat-sheep' is considered a near threatened species, and may now be under threat from a viral disease spreading from domestic goats and sheep along the India-Tibet border.
Ray, the owner of Blue Sheep, has walked mountains to find them, as they are very rare and usually seen only from afar. One time she and a friend climbed a steep mountain to a monastery and managed to find a 'redeemed' blue sheep (marked by red ribbons in his ears; no one is allowed to kill him). The blue sheep initially let visitors stroke him but when they turn to leave he suddenly became aggressive and butted them. Ray's dog was knocked over edge, and whilst trying to divert attention from others, she herself received a heavy butt. They discovered later he is well known in the area for this type of misbehaviour! Some like to think that the name was chosen because the shop helps people to thrive despite harsh conditions, like a Himalayan Blue Sheep. Others note that Dr. Ray's given name also means 'female sheep' in Hebrew...
Located in Chengdu, Sichuan Province, the Blue Sheep store is a social enterprise that collects handcrafts from different minorities, from those with disabilities, with heavy medical bills or suffering from poverty for some other reason. Blue Sheep pays fair trade prices on receipt of products so craftsmen do not have to wait for payment.
Your feedback is extremely important for us. This is the best way to improve our services and products, so let us know of any opinions/suggestions you might have. If you leave us a review on Tripadvisor, you'll earn a free coffee of your choice next time you visit our shop!
"Such an amazing shop with high quality merchandise and some of the most friendliest people you will meet in Chengdu!"
"This is probably the best little shop I have visited in Chengdu. Full of surprisingly interesting gifts and charming helpful staff. Brilliant that the profits go towards helping people in need. YOU MUST TAKE A LOOK!!"
"Great selection of crafts with an extra value, as all of them made by minorities with disabilities. tasty ice cream..."